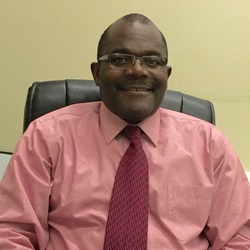 Our Pastor

Our congregation is currently being served by Pastor Elijah Mwitanti.
Born and raised in a Christian home in the Copperbelt Province of Zambia, Pastor Elijah Mwitanti came to the United States in 1993 for the purpose of pursuing graduate studies. He studied at the Theological College of Central Africa, after which he served in different capacities including the pastorate and Bible College instruction within the Baptist Association of Zambia. After graduating with a Masters in Missions with Divinity from the Reformed Theological Seminary in Jackson, MS, "Pastor Elijah" as he is affectionately called, served the pastorates in Texas, New Jersey, Utah, Southwestern Virginia and Epiphany Lutheran Church in Dale City/Woodbridge, Virginia.
Pastor Elijah and Kerris, his wife of 24 years, are blessed parents of a son and three daughters. Their children are avid soccer players and runners. When the family gets together, the Mwitantis like to take road trips during which time they play games including counting the barns on farms on both sides of the highway and spotting dilapidated and abandoned homes with trees growing inside and through the roof. They wonder what kind of history may have been made in such homes or which US President may have had a humble beginning in one of those. They appreciate things with humble beginnings.
As a pastor, Elijah is passionate about preaching and teaching the Word. He is grateful for every door of ministry God opens up.
As a missionary, Elijah is enthusiastic about serving those in need, especially in his native country of Zambia. He travels there on a regular basis.
We are thankful that Kerris has joined our Handbell Choir.